About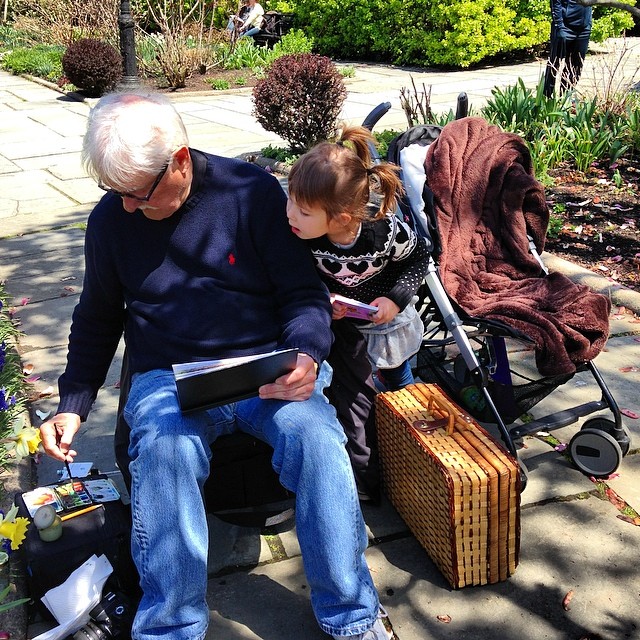 John Thompson was born in Three Rivers, Michigan in 1940. At an early age his family moved to South Bend Indiana. His father was an artist and was his earliest artistic influence. He studied painting at Miami University in Oxford, Ohio. After graduation he worked as an art director in adverting agencies in Chicago. In 1963 he was drafted into the Army and spent most of his two years working as an illustrator. After his discharge from the Army Thompson hitchhiked throughout Europe for seven months making sketches and visiting as many art museums as possible. He eventually returned home and moved to New York where he also worked as an art director and continued painting.
In the early 1970's Thompson left the advertising business to paint. His early works from this period reflected the graphics and often multiple images of the television commercials and ads that occupied his advertising career. Art directors became aware of the new paintings and started commissioning his work as illustrations. Since he wasn't working in any of the established styles popular in illustration his work was fresh. He was being hired as an illustrator because he was a painter.
In the late 1980s, Thompson began a series of paintings documenting missions for the United States Air Force. He accompanied flight crews to places that he would never be able to experience on his own. He was given complete freedom to paint whatever he wanted. In 1987 he traveled with a medical crew to Islamabad Pakistan to bring out Afghan Freedom Fighters and women and children wounded in the Russian Afghan war. Most of the paintings in this series incorporated dark backgrounds lit by whatever existing light that was available. The resulting work seemed to capture the drama of the situation. He also accompanied a crew into Iraq shortly after the invasion in 2003.
Thompson is a Professor of Art at Syracuse University. In 1998-1999 he taught painting in Florence, Italy. The series of paintings produced in Italy included Sightseerers from the East. The subjects of this painting were four Indian women in saris in front of San Marco in Venice. This painting used the design principles and painting techniques of the West, while encompassing the colors and patterns of the East. India would be a future series.
In 2005 John made the first of three trips to India. The paintings and drawings inspired by that experience were exhibited on the Syracuse campus in 2006. He returned to India again in 2007 and 2008. The India series continues the look of the earlier work in Italy with an almost theatrical approach to presenting the people going about their everyday routines.
John is presently working on a series of paintings of Central Park, New York City.
John lives in Syracuse, NY and New York City with his wife Darren.